Campfire pork and beans are a must as a side for your smokey meats. Starting with these canned beans makes this recipe quick and easy. The result will be some amazing smokey beans with a nice jalapeno bite. Add some leftover smoked pork if you have some on hand for an even better result!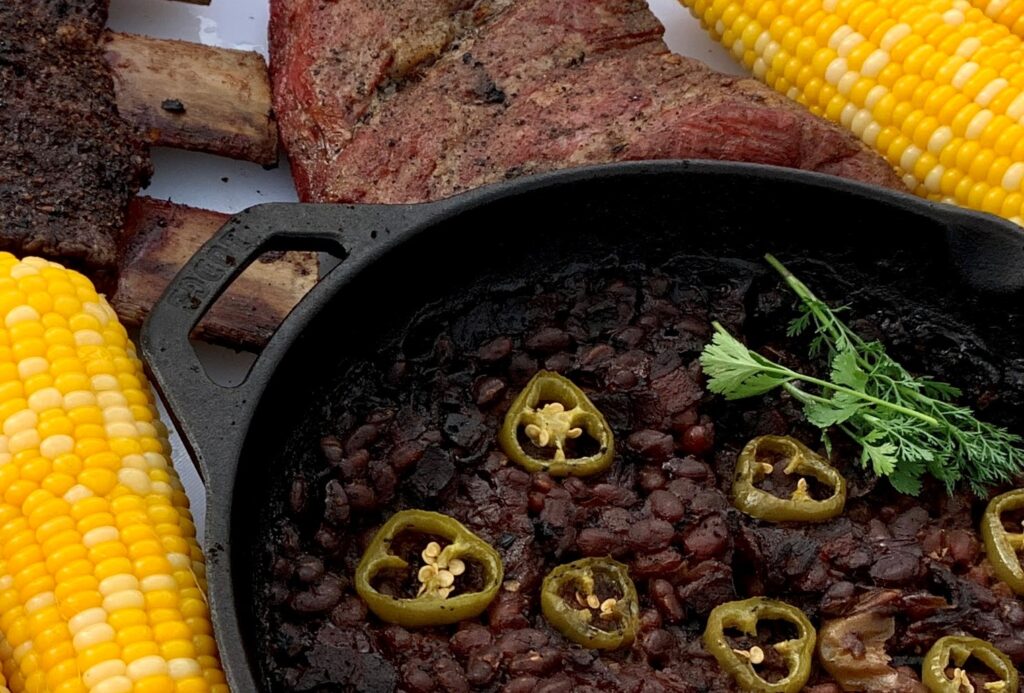 ---
Cook's Notes
Bush's Original Baked Beans are the starting point for these Campfire Pork and Beans. This gives you a nice head start on getting this side dish ready. The alternative is to make your beans from scratch of course. If you have the time this is always a good option.
Here are the ingredients you will need:
1 cup dried navy beans
4 cups water
¼ cup ketchup
¼ cup maple syrup
2 tablespoons brown sugar
2 tablespoons molasses
1 teaspoon Worcestershire sauce
½ teaspoon salt
⅛ teaspoon ground black pepper
⅛ teaspoon chili powder
1 small onion, chopped
Unfortunately, preparing these beans from scratch involves soaking the beans overnight which always adds more complexity to preparing the dish. In addition, the cooking time on the beans mixture is upwards of 6 hours. Canned beans starting to look like a good option? I think so too.
Try these yummy beans with any number of your smokey favorites like pulled pork, smoked pork ribs, or chicken breasts. Smoking this side dish in the cast iron skillet works very well and also provides a great look when it comes time to serve it to your friends and family.
Are you a big fan of smoked chicken? Check out this Juicy Smoked Whole Chicken post! Or how about some Yummy Pulled Pork? Looking for a great ending for your SmokeyGood main course? Check this out! Smoked Cinnamon Apple Crisp.
---
Campfire Pork and Beans
Course: Sides
Cuisine: Smoked
Difficulty: Easy
Smoked beef ribs, coleslaw, and fresh corn on the cob will go nicely with your Camp Fire beans. For more information on smoking beef ribs please enjoy this video from the SmokeyGood Kitchen.
Ingredients and supplies
Ingredients

1 can – 28 ounce Bush's Original Baked Beans

1 yellow onion – medium chop

1 green onion – medium chop

1/2 pound – bacon, thick cut, chopped

1 Jalapeno pepper – chopped

1 Jalapeno pepper – sliced for topping

2 tbsp. – vegetable oil (to saute vegetables)

Supplies

Cast iron skillet
Directions
In a cast-iron skillet large pot on medium heat, saute the onions, chopped jalapeno peppers, and bacon until the vegetables are soft and the bacon is partially cooked. Add the beans and cook on medium heat for 10 minutes until the mixture is heated through stirring occasionally. Distribute the sliced jalapeno peppers evenly over the surface of the beans and your beans are ready for the smoker.
Recipe Video