Smoked Country Style Ribs are readily available in the supermarket. They are a short cook and a great way to get some quick SmokeyGood-ness. They are not really ribs actually but still very yummy. Country-Style ribs are cut from the sirloin or rib end of the pork loin. The taste will be a bit more like pork chops rather than the flavor you would find in St. Louis style ribs.
---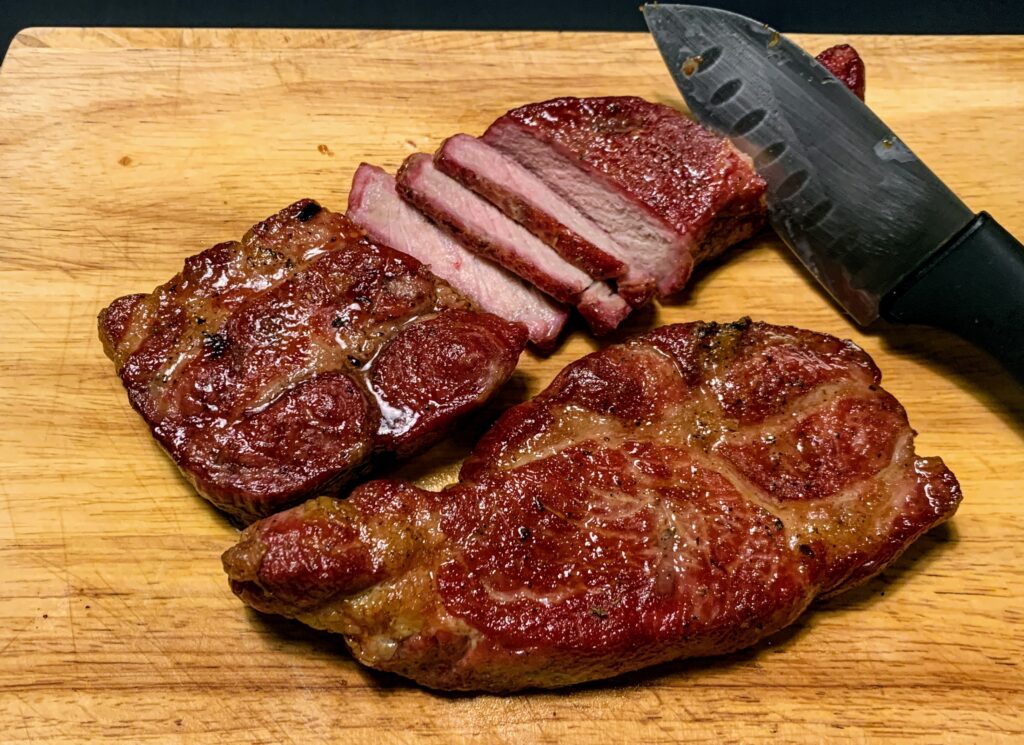 Cook's Notes
The meatiest variety of ribs, country-style ribs are sold either as "slabs" or in individual servings. These pork ribs are perfect for those who want to use a knife and fork. These smoked country-style ribs will benefit from dry brining so they will stay tender and juicy and not dry out during smoking. They are seasoned today with Flying Swine All Purpose Rub which adds a very nice combination of sweet and savory notes to the ribs. Are you a big fan of ribs of all kinds? Check out this post on Tender Smoked Beef Ribs!
For more on smoking pork ribs…
---
Smoking Tips
Consider using a smoking pan and rack to catch the drippings to reduce the mess in your smoker. It makes clean up much easier. You will also need an instant-read thermometer to ensure you are cooking your ribs to exactly the right temperature. This is not just about getting the doneness right, it is also about food safety as well.
Looking for a sweet ending to your SmokeyGood main course? How about some Smoked Cinnamon Apple Crisp!?
---
Smoked Country-Style Ribs
Course: Main
Cuisine: Smoked
Difficulty: Easy
Internal Meat Temp.
175
degrees F
All times are approximate. Please use the internal temperature as your guide.
ingredients and supplies
Ingredients

1 package of country-style pork ribs

Kosher salt

Pork Rub (Flying Swine All Purpose seasoning)

Supplies

Smoking pan and rack

Vegetable oil or cooking spray

Wood pellets – Hardwood blend
Directions
Prepare.
Coat the meat with some vegetable oil or use a pan spray to add an oil coating. This will help the salt and seasonings to adhere. Dry brine the pork overnight. Just before smoking, season with a rub or your choice. Preheat the smoker to 250 F | 120 C and maintain this temperature throughout the cook.
Smoke.
Into the smoker. This is going to be a quick cook so keep a close eye on that internal temperature. You should start to see a beautiful mahogany color beginning to develop. This is thanks to the smoke and the color from the rub.
Serve.
The internal temperature of 175 F | 78 C has been reached! Remove from the smoker and let the ribs rest for 5 minutes then slice and enjoy with your favorite sides.