Halibut is without question my favorite fish. With this Smoker Roasted California Halibut recipe, I am quite sure it will become your favorite as well. In general, fish has a mild flavor but this simple topping will give you amazing flavor in every bite. And to be clear, Alaskan Halibut will also work beautifully for this recipe.
---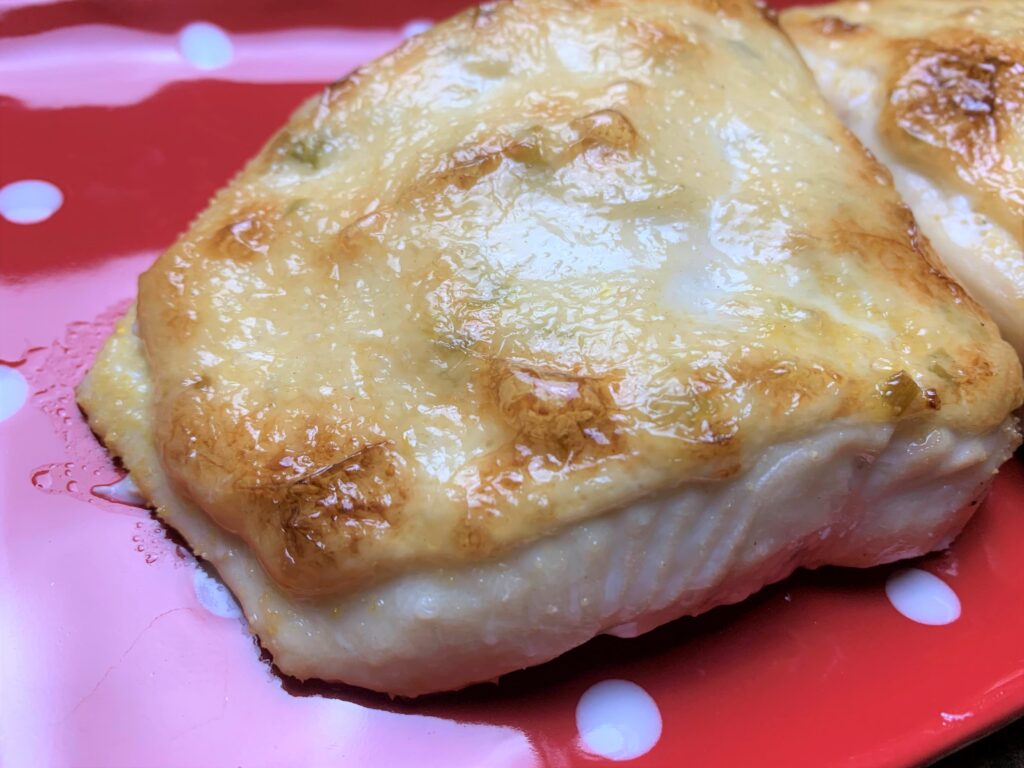 ---
Cook's Notes
For this Smoker Roasted California Halibut recipe, we are going to roast the halibut in our pellet smoker at a high temperature. This is not a low and slow technique where we are trying to infuse a lot of smoke like we would with beef brisket or a rack of ribs. We want the fish to cook on high heat to preserve the moisture level of each filet. The recommended smoker temperature is 450 F | 232 C. For this recipe it is important to preheat the smoker. Our goal for this cook is an internal fish temperature of 130 F | 54 C.
Okay, I know the internet will tell you to cook your fish to 145 F | 63 C for safety reasons. Unfortunately, that will actually overcook this delicate Halibut. 130 F | 54 C will give you a beautiful, moist, and flakey result.
---
Smoking Tips
Consider using a smoking pan and rack to catch the drippings to reduce the mess in your smoker. It makes clean up much easier. When smoking these halibut filets you will also need an instant-read thermometer to ensure you are cooking to exactly the right temperature. This is not just about getting the doneness right, it is also about food safety as well.
---
Smoker Roasted California Halibut
Course: Main
Cuisine: American
Difficulty: Easy
Internal Fish Temp.
130
degrees F
All cooking times are approximate. Please use your instant-read thermometer and the internal temperature target as your guide.
ingredients and supplies
Ingredients

2 – halibut filets, 2 inches thick

1 Tbsp – corn meal

1/2 cup – Hellmann's / Best Foods Mayonnaise

1 Tsp – Worcestershire sauce

2 cloves -fresh garlic, minced

1 – green onion, finely chopped

Supplies

Smoking pan and rack

Vegetable oil or cooking spray

Wood pellets – Hardwood blend
Directions
Prepare.
Blend the chilled mayonnaise, Worcestershire sauce, garlic, and onion in a small bowl. Place the chilled halibut filets on a smoking rack and pan that has been coated with pan spray for easy cleanup. Dust the halibut with a light coating of cornmeal. This will help the topping adhere to the fish while you are handling and serving it. Spread the mayonnaise mixture evenly across the top of the filets.
Roast.
Preheat the smoker to 450 degrees F | 232 degrees C. Roast the halibut filets until they reach an internal temperature of 130 degrees F | 54 degrees F at the thickest point using an instant-read thermometer.
Serve.
Remove the filets from the smoker carefully to avoid disturbing the topping. Serve hot with your favorite side dishes.
Recipe Video