Beef short ribs are a real treat if you are looking for the height of beefy flavor. The key to smoking tender beef short ribs is to cook them low and slow. You can find short ribs like these at your local supermarket, but as you can see some of these have very little meat on them.
---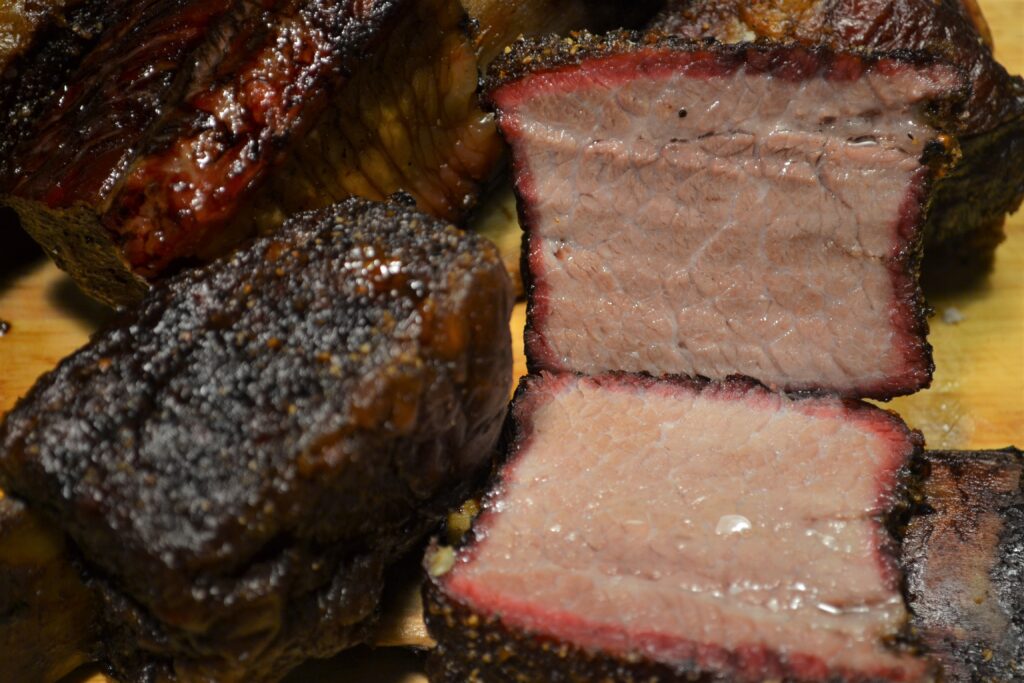 Cook's Notes
It is worthwhile to talk to your butcher and try to get some that are a bit meatier. For several much meatier beef rib options check out this Tender Smoked Beef Ribs post. Here are a couple of quick things to explore when smoking beef short ribs. Dry brining your beef ribs before smoking it will give you a better chance at a tasty and tender result. Learn more about dry brining (salting the meat). Choosing the right rub for your ribs is a personal choice. You will develop your own favorites over time. If you need somewhere to start, consider the Montreal Steak Spice as a flavorful rub for beef. Having lived in Montreal for many years, this is still one of my favorites. For more on rubs in general click here. Looking for a sweet ending to your SmokeyGood main course? How about some Smoked Cinnamon Apple Crisp!?
---
Smoking Tips
Smoking these ribs render some fat. Consider using a smoking pan and rack to catch the fat before it makes a huge mess in your smoker. It makes clean up much easier. Don't own a meat thermometer? Time to get one if you want to smoke like the pros. Learn more here.
---
Tender Beef Short Ribs
Course: Main
Cuisine: Comfort
Difficulty: Easy
Internal Meat Temp.
200
degrees F
All cooking times are approximate. Please use your instant-read thermometer and the internal temperature target as your guide.
Ingredients and supplies
Ingredients

1 Package of beef short ribs ( 6 – 8 ribs)

Kosher salt

Montreal Steak spice

Supplies

Vegetable oil or cooking spray

Smoking pan and rack

Wood pellets – Oak
Directions
Prepare.


Dry brine the meat to enhance the flavor and tenderness by placing the short ribs on a clean surface and sprinkle them with Kosher salt. Learn more about dry brining. After the dry brining is complete, to enhance the beefy flavor season all of the surfaces of the meat with Montreal Steak spice seasoning.

Smoke.


The color is developing but we have a long way to go – we are taking our time with this one. Like the chuck roast or the brisket, these ribs need some time to tenderize. Unlike pork ribs where a meat thermometer is not effective, there should be enough meat on these beef bones to allow you to insert your thermometer probe.


Serve.


Beautiful smoke ring at the finish. Tender and still juicy. Tasty Montreal Steak spice on the surface. Get the napkin ready 'cause this is going to be some beefy, SmokeyGood -ness!