The flavor of these roasted teriyaki chicken thighs is amazing. On this one, it is all about the sauce. Teriyaki is a cooking technique used in Japanese cuisine in which foods are prepared with a glaze of soy sauce, mirin, and sugar. Teriyaki sauce has four main components: soy, sake or mirin, sugar, and ginger.
---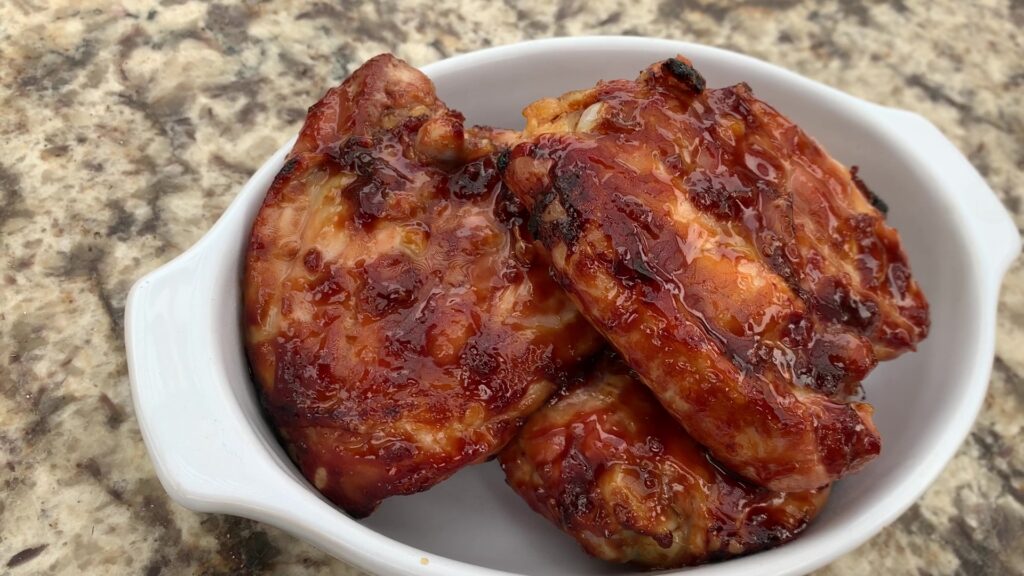 Cook's Notes
It's more or less your basic Asian seasoning. I have always found that store-bought Teriyaki sauces are often harsh. We decided to go with a scratch recipe that is sweet and savory with hints of garlic and ginger. Bone-in chicken thighs are one of my favorite cuts of chicken. The meat is soft, tender, and flavorful and the bone seems to help them hold moisture and stay juicy. One of the advantages of preparing these roasted teriyaki chicken thighs is that they are a quick cook. Compared to smoking a pork shoulder for 10 hours this is a quick way to prepare a great main course meal. We borrowed this sauce recipe from Majerles Sports Grill and it really works well.
---
Smoking Tips
Consider using a smoking pan and rack to catch the drippings to reduce the mess in your smoker. It makes clean up much easier. You will also need an instant-read thermometer to ensure you are cooking your bacon-wrapped jumbo shrimp to exactly the right temperature. This is not just about getting the doneness right, it is also about food safety as well.
Looking for a sweet ending to your SmokeyGood main course? How about some Smoked Cinnamon Apple Crisp!?
Are you a big fan of smoked chicken? Check out this Juicy Smoked Whole Chicken post!
---
Roasted Teriyaki Chicken Thighs
Course: Main
Cuisine: Asian
Difficulty: Medium
Teriyaki sauce recipe is courtesy of Majerles Sports Grill. All cooking times are approximate. Please use your instant-read thermometer and the internal temperature target as your guide.
ingredients and supplies
Ingredients

4 bone in chicken thighs, skin removed

1/2 cup soy sauce

1/4 cup water

2 tablespoons sweet rice wine

1 tablespoon, plus 2 teaspoons brown sugar

1/4 cup sugar

1 1/2 teaspoons garlic, minced

1 1/2 teaspoons fresh ginger, minced

Supplies

Small sauce pan

Basting brush

Smoking pan and rack

Wood pellets – hardwood blend
Directions
Prepare Sauce.


Combine ingredients in a saucepan on medium heat until the sugar is dissolved. 

Thicken for glazing.


Mix 1/2 tablespoon cornstarch with 1 tablespoon water. Heat sauce on medium-high heat and add the cornstarch water mixture. Simmer until thickened.

Roast.


Preheat the smoker to 375 F | 191 C. Place the raw chicken thighs on a smoker rack and pan. Using a basting brush glaze the chicken on both sides at the beginning of the cook. Repeat this process twice more during the cook.

Target temperature reached.


For chicken thighs, we want an internal temperature of 160 F | 71 C using an instant read thermometer.
Recipe Video