Spicy Southwest Chipotle Coleslaw features cold and crispy fresh cabbage, carrots, and onions paired with a creamy and spicy dressing. A classic recipe with a spicy twist to accompany your smoked ribs or Tri-Tip. Not sure you can serve pulled pork for example, without a good slaw on the side.
---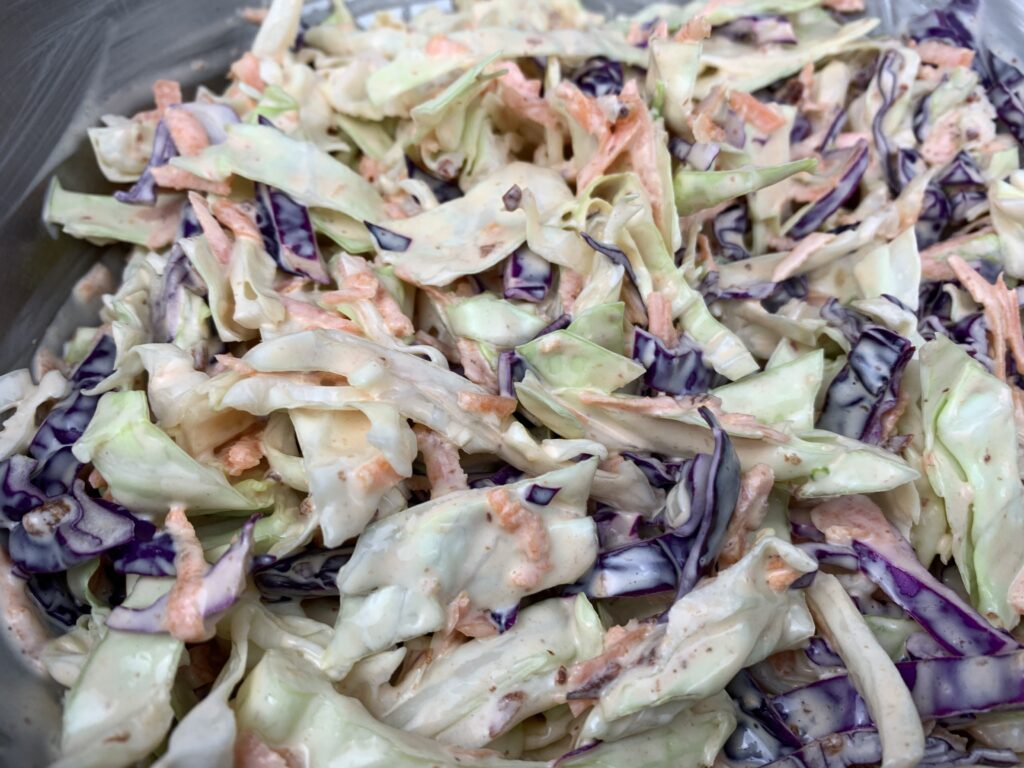 Cook's Notes
Spicy Southwest Chipotle Coleslaw is an absolute necessity when serving certain smoked meats. The tricky bit with this recipe is getting the heat level right. We created the recipe with two layers of heat. The base layer is in the sauce and on its own, it should not be too spicy for some of your more cautious guests. The second layer is the chopped Jalapeno for those who want to ramp up the heat. You get the idea. The cilantro adds a nice southwestern flavor.
There are options you could use in this recipe for heat sources. The ground red Chipotle pepper should be readily available and you may already have it in your spice cupboard. I like the canned chipotle peppers in adobo sauce because you can use both the peppers and the sauce – the sauce adds a nice color to the dressing. Use whatever heat source you like – Sriracha, chili flake, cayenne pepper – your choice. Just keep in mind the heat will develop overnight in the refrigerator.
Lime juice replaces the typical white vinegar in this recipe and provides the acid bite. Now since the lime juice is not as acid as the vinegar you may want to add a bit of vinegar if you like that bite. As always, you can adjust the final viscosity by adding more or less mayonnaise – there is only one brand.
---
Spicy Southwest Chipotle Coleslaw
Course: Sides
Cuisine: Southwest
Difficulty: Easy
This recipe is all about adjusting the heat level to your own taste. Give the flavors a chance to develop overnight and adjust as needed before service.
ingredients and supplies
Ingredients

3 cups – shredded green cabbage

1 cup – shredded red cabbage

1 cup – shredded carrots

1/4 cup – green onions, medium chop

2 tbsp – cilantro, chopped

1/2 cup – Hellmann's/Best Foods regular mayonnaise

1 tbsp – freshly squeezed lime juice

2 tsp – white sugar

1/2 tsp – salt

1 tbsp – Jalapeno pepper, fresh, chopped

1/2 tsp – Red Chipotle Chile pepper, ground
Directions
Prepare dressing.
In a small bowl, stir together the mayonnaise, lime juice, salt, and sugar. Add the Chipotle Chile pepper and mix well. For a spicier slaw adjust the quantity of the Chipotle pepper.

Assemble Salad.
In a large mixing bowl combine the vegetables with the dressing and toss lightly to coat.
Chill.
Cover and chill overnight.
Serve.
Before service, remix and add a teaspoon of mayonnaise if the mixture needs binding up. This is normal as the vegetables release their moisture overnight. Garnish with cilantro sprigs and serve.
Recipe Video